Alone moving and shifting is a hectic and stressful work to accomplish and if you have your children with yourself during the whole process then it adds up more to the situation as you don't know where and how much energy should be distributed between the work and children. One get confused that when and where to keep an eye on the goods that should be packed and on the kids. Generally people left their kids either with their neighbour or relatives during the relocation process as no one wants to add up the burden. But there are ways to handle the children during moving and shifting which people are not known of.
As you know kids are more sensitive. So one have to handle then precisely during the whole relocation procedure as they get emotional when they don't find the environment favourable which will further lead to discomfort and stress. Kids found themselves attached with the things very easily no matter what it is, it may be some toy, some place, some animal etc.
Before moving make your kid physically, emotionally and mentally prepared and strong which will help a lot in the current situation as no one can win over a kid.
From the child's point of view it is more challenging to them to leave the old school, friends, home. They become mentally disturbed. So kids are handled with extra care and support to adapt the new environment.
List Of Problems Faced During Packing And Moving Along With Thier Solution
It's very important to stand with your kids during whole process of relocation and never leave them alone as they may harm themselves from the things present here and there. And if you have pet allow them to play with the pets as it will keep them happy and more rejuvenated.
And if you have planned and decided from very starting that you have move with your kid then it is assumed that kids falling in the age group of 2-5 years are correct for handling the shifting procedure as they don't have to go to school and don't have much friends so it's become easy for them to adapt the new environment more quickly.
But everyone knows that things always happened unplanned then there are some tips and tricks to cope up with them.
How to handle different age groups:-
Moving with toddlers:-
Kids of age group up to 6 are easy to move as they rarely gasp the things happening around so it's become easy to move them under proper care and guidance. One of the finest way to keep their mind busy by keep talking to them. Say story to them to make them understand about the surroundings. Involve them in the work of packing their own stuffs like toys etc. Also to avoid any discomfort later make a visit to the new location before with your champ. Don't make any changes in arrangement of your child's room from the previous one so that they don't feel any difference. Also to save your energy hire a babysitter to keep them engaged.
Moving with school age kids:-
Kid of this age group is more susceptible to move as they get to know or understand the things happening nearby. Parents have to prepare the schedule of moving in by keeping in view of their kid's school schedule if possible. As shifting in between the exam is not advisable. Before moving into the new location go through the school details thoroughly and after proper inspection get your kid admitted. Also not forget to withdraw the important official document that will be required for admission in new school.
Moving with teens:-
Moving in with teens is such a big headache for the parents as they refuse to move because they have their own school groups, friends groups, social groups so they don't agree to leave their group and hence they deny. The fact which cannot be ignored is that people of this age are of generally rebellious nature and hence they deny things maximum times when they are asked for. So it's better to spent much time with your teen kid and make them understand the reason behind your moving also tell them that they will visiting the old location whenever possible.
Given below some tips that one should must follow if they are travelling with their:- children:-
Discussion:-
Have a transparent and clear cut discussion with your kid and tell them that you are moving also tell them the reason behind it. Make them understand if they refuse to move. Have a deep impact of your words on the child regarding the reason behind your relocation. Be ready for the answers from the questions asked by your kids and answer them politely as kids of school age groups and teen are generally stubborn. Tell them the benefit of new location, new area, new lifestyle.
Never leave the kid alone:-
Never left your kid alone. Always have them by your side under your guidance. Don't leave them in your relative, friend's or neighbour's house as it acts as shock for them by letting things know and happen for a sudden. One of the other reason behind not leaving your child alone is that they may hurt themselves from the things extended here and there.
Assign a task:-
Engage your kids by assigning the small activities. Benefit of engaging the kid is that they will remain in front of your eyes as well as your work is done. Also sitting idle will trouble the child as well as the parents so the best way to keep them busy by asking them to pack their own bags. Involve the teen in your decision making. Allow a full transparent participation of your teen child in your decision, see their perception, listen their views. Ask them which thing go better. Try to make them understand of family values.
Dejunk the items when kids are asleep:-
Now decultter the old, worn out items that will of no use in near future. Do this activity when your kid is asleep as there may be object which your kid is very fond of but that thing may hurt later as they became old. So it's better to get rid out of them while your child is sleeping.
Have emotional understanding with them:-
Always have a special bond attached with your kid. Always listen to them what they are saying, what they are asking for. After that make them understand your views, your ideas, your good intentions behind every decision.
Visit the places:-
Before moving into new place visit the old place like school, playground and neighbours with your kid so that you and your child leave for the new place happily.
Throw a small party:-
Before moving in to new place organise a small get together or goodbye party for your kids so that your kid will meet their friends, neighbors. A proper closure is needed for the beginning of new things, new relationships like friends, neighbours. After moving in throw a small party so that everyone will know each other especially kids.
Keep the pet with the kids:-
During the whole procedure of moving and shifting keep you kid engaged with your pet if you have as it will ease the child's mental status to cope up with the situation also keep the parent stress free.
Hire the babysitter:-
For toddlers hire a babysitter as one cannot have attentions at two things at same time simultaneously so to ease the process of moving and shifting it is advisable to hire the babysitter to have your full focus on the process of transportation like packing, loading, unloading and unpacking. All work will be accomplished on time and without any discomfort.
Some Must Concern Tips While Shifting Vehicles
Hire kid friendly moving company:-
There are companies also which add the measures for kids during relocation process. Search for such companies through a trusted and reliable platform. Go through the websites and web pages and check if they have amenities for children or not. After proper inspection only hire the kid friendly movers and packers in Delhi to Pune.
Visit the destination with your kid:-
Before moving into the new place make a visit to the new location with your kid and let them know about the surroundings. Acknowledge your child with new neighbors, school, home and new environment. So that they will not shook up after the move. It helps to mentally prepare them for the move and avoid any stress later.
Keep the things as it was in old location:-
Kids are prone to changes so it is advisable to adopt or create any change in the new location from the previous one. Keep that setting of toys, furniture, bedroom, kitchen as it is to avoid any kind of irritation within the children.
Pack a moving day bag for your kid:-
Pack a moving day bag for your kid so that they will remain joyful during the whole journey as they have their own small kit to play or to rely upon.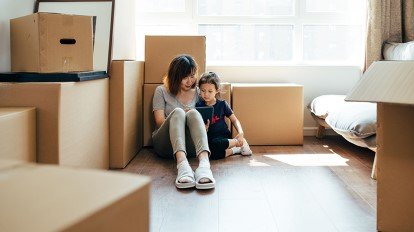 Make a routine:-
Don't do the things haphazardly make a proper routine for your move for the things to be done correctly and timely.
Stay positive stay calm:-
Most important thing that should not be forgotten is, one have to do during whole process of moving and shifting is to keep calm and don't make rush. As making rush increases the chances of mistakes. So it's better to stay calm, relax and positive. Must take best decision while moving with kids else you can ask from some best packers and movers Bangalore Company . Who must gives your best advice for moving with kids.